Swindon & Cricklade Railway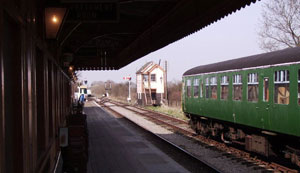 The Swindon & Cricklade Railway actually lies between its two namesakes, however the railway has aspirations to operate into both locations as future expansion allows. The line is roughly two miles in length and has two intermediate stations at Blunsdon and Hayes Knoll. The railway's sheds are based at the latter location. The railway are currently working on a southern extension to a terminus station at Mouldon Hill Country Park in Swindon, and have another future extension to a northern terminus at Cricklade.
During the 1990's a collection of vehicles built up by the late Matthew Smith were based at the railway. These included Class 101 and 107 vehicles, and included the only preserved Class 101 centre car at the time. These vehicles were disbanded in the early 2000's however, either sold on or relocated to the Mid Norfolk Railway.
Since 2001 the railway has been the home of the Gloucester Railcar Trust, who are working to restore the only surviving Class 119 2-car set. They also own a Class 117 centre car which is intended to run within the set, which arrived in 2005.
The group continue with their restoration work, and as such no passenger services are operated by DMUs, the line does however have a Class 205 SR DEMU in service.