Class 109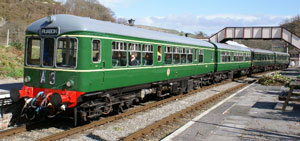 The Class 109 is one of preservations success stories. With only five built for BR service in 1957, they were all withdrawn as non-standard early on, with a single set surviving, heavily modified in departmental use.
This set was saved by the Chasewater Railway, but became dilapidated and in a perilous state by the mid 1990s, its asbestos contamination making it an expensive set to save.
However the Llangollen Railcar Group bought the set and in a ten year project assisted by the Heritage Lottery Fund, returned it to original condition, to excellent standards. The Class 109 set has become a flagship for DMU preservation in general, and currently lives at the Llangollen Railway in Wales.