"...communication, co-operation, preservation..."
The Railcar Association is formed of owners of preserved multiple units. This site is dedicated to the history, technology and preservation of first generation DMUs.
---
Last Update - 14th July 2013
---
The Railcar Association
Welcome to The Railcar Association website. This version has been online since 2011 (although the "original" website has been around much longer) and visitors can browse the different sections of the site using the menu on the left. More information on who we are and what we do is available on The Railcar Association page.
Web Restructuring
During the past five years, the association has undergone some restructuring which has included changes to and at times non availability of our website. Whilst much of the "original" website remains off line whilst it is undergoing update, several sections have been transferred to this section which is now available. It is anticipated that more sections will be included here as time allows.
Keeping Updated
For news updates, please see our News Bulletins which are released six times a year. Short notice items may be included on this page below, but most general updates will be in the bulletin. You can keep track of the updates to each of the sections on this part of the site by checking the Latest Updates section at the foot of this page.
---
Short Notice News Items
14/7/13: Apologies for the lack of updates over the past six weeks. The site was being transferred to a new sever and some difficulties were encountered in processing updates. Amongst other limitations it prevented the release (on time at least) of the July news bulletin. These issues have now been resolved and normal service will resume.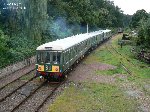 14/7/13: Some information on the Dean Forest Railway DMU day has been released: The vehicle being introduced into passenger service on 27th July is DMCL M51566, a class 108 built in 1959 at Derby Works. This has been thoroughly overhauled at the Dean Forest Railway. Other vehicles in operation will be DMBS M51914, DMBS E50619, DTCL M56492 and TSL E59387. We hope to run a 3-car and a 5-car DMU formation during the day. The 3-car set will use newly restored M51566 as well as unique class 108 Trailer Second vehicle E59387, the only vehicle of this type to have been preserved. This means that the 3-car set will be the most authentic 3-car class 108 set in preservation as it will use vehicles of the same type as those used in the original 3-car sets turned out by Derby works. The 5-car set will be the longest DMU ever to have been run on Dean Forest Railway passenger services.

13/5/13: Following some difficulties with some regular viewers finding "new" images added to the Preserved Vehicles pages which were taken several years ago (and therefore appear further down the page), future image updates to this section will differentiate between new and archive images. Images taken in the last 12 months will be listed as normal in the updates section. Images older than this will now be listed separatly in the updates section under "archive images".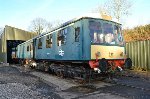 1/2/13: More detailed information has been released for the Ecclesbourne Valley Railway's "Multiple Memories" gala in August, including driver experience runs on Friday 9th August using Derby Lightweight M79900 and newly restored Class 119 W51073. This will be the first time that a Class 119 (of which only three vehicles survive) has been available for a driver experience, and indeed the first public run of a Class 119since they were withdrawn from BR in 1994. The event, also featuring the return of Class 122 W55006 after a 14 month overhaul, is not one to be missed. More details of the itinerary and how to book the driver experiences is available on the EVR's Multiple Memories page.

---
Latest Updates
14th July 2103: Items added to Latest News.
14th July 2013: Issue 118 added to News Bulletin.
14th July 2013: Item added to For Sale/Wanted.
14th July 2013: Preserved Vehicles updated.
24th January 2013: Further details released & driver experience booking open for 2013 Convention.
24th January 2013: Churnet Valley, Great Central & Llangollen dates added to Running Dates.
1st January 2013: Railcar of the Year 2012 announced.
2nd July 2012: East Anglian Railcar Group link added to Societies.