News Bulletins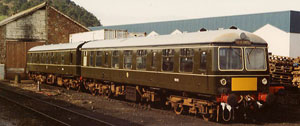 Welcome to the News Bulletin section of The Railcar Association. The bulletin is almost an online magazine, believed to be the only example dedicated to diesel railcars and related vehicles. The bulletin is produced every other month, new issues being produced six times a year. They are free to download and are in PDF format. The current bulletin has been running since January 2010, having been ressurected by Chris Moxon.
Original Bulletin
The original printed Monthly Bulletin ran from 1996 to 2004 and was started to establish better contact between DMU groups in pre-internet days. It was a time when many DMUs were being preserved and their new owners were able to share advice, encouragement and spares.
Updates
The likely times for new issues are: early January, March, May, July, September and November.
Submitting
The bulletin relies entirely on its readers supplying information and images for inclusion. Our railcars, both in preservation and on the mainline, are always changing, with the task of keeping up to date too great for a single person. If you have any information or images for any Diesel Multiple Units (or related vehicles), then please feel free to send them in to railcar@live.co.uk. The more offers of information and images received, the more accurate, comprehensive and interesting the news bulletins can be.
Latest Issue - March 2019 (Issue 152)
Previous Issues