Class 119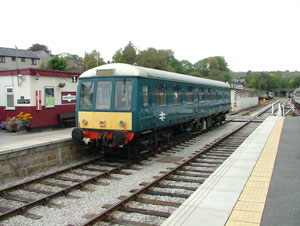 These Gloucester built "Cross Country" sets were one of many DMU designs based on the Mk1 coach with the standard "Derby style" front ends. Unlike many DMUs, longer distance travel was considered, so these vehicles were unusual in having large areas for first class, large brakevans and even buffets in some centre cars.
Although built as 3-car sets, no centre cars were saved, and the powercars were lucky to escape scrapping, as this class was badly hit with asbestos problems, putting off any would be preservationists. Luckily, a single 2-car set was preserved to represent the class, now based on the Swindon & Cricklade Railway. An additional DMBC was also preserved, although it was badly stripped mechanically and electrically. Their use with Network SouthEast prolonged their life sufficiently to prevent them being lost as a class, like several other asbestos prone classes.
All the surviving vehicles are currently under restoration, all three requiring work before a return to service is envisaged.