Private Site: Denbigh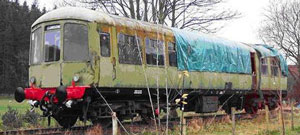 The site at Bodfari is part of the Denbigh & Mold Railway. Whilst intensions were good the case to reopen this particular line as a heritage railway has seen little progress.
There is a single vehicle in residence, on an isolated piece of track in a field. The site is not accessible to the public and is currently being used as a private restoration area.