Buckinghamshire Railway Centre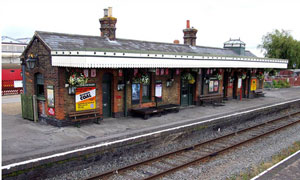 The Buckinghamshire Railway Centre is a working steam museum. They house an extensive collection on their 25 acre site which includes a Class 115 3-car set.
The Class 115 is appropriate for the museum as the units were built for the surrounding areas and regularly worked on the mainline past the museum site in earlier times. Although unable to preserve a fully authentic 4-car set, the museum should be commended for saving 3-cars when many preservationists at the time were not preserving centre trailers.
The museum has a short demonstration line which is normally operated by smaller steam locomotives. The DMU has consequently seen little use in recent years and is currently out of traffic on static display.