Class 115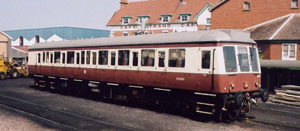 Class 115's were Derby built 4-car suburban units which ran for much of their lives from London Marylebone.
The sets were formed DMBS-TCL-TS-DMBS, and whilst a reasonable selection have been preserved it is now unlikely that a true Class 115 4-car set will be recreated. This is due to the distribution of vehicles as only two TS vehicles survive in preservation, one is intended to provide the TS in a Class 127 4-car set (as no 127 TS vehicles survived the 115 is the closest example) and the other has been stripped of its interior and is in use as a stores vehicle on a line without any other Class 115 vehicles.
Initially there were five complete sets preserved (three of which were 3-car sets with a TCL included) with some extra trailer cars in use with other DMU classes. However as vehicles have required major investment several sets have been sold on and sometimes split up and/or scrapped. Several others fell out of use and went into storage. By 2013 only the West Somerset Railway had an operational set still in service. The WSR have always had the largest Class 115 collection having decided in the 1990's to standardise their fleet, selling other types in favour of 115s.
Like all suburban DMUs corrosion is now attacking most vehicles, with 51669 & 51887 receiving heavy overhauls to ensure their long term future.
Semi Scrapped

Now Scrapped