Class 127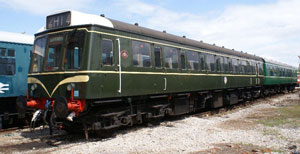 The Class 127s were an interesting mix of standard and non standard components. In appearance they were built to standard Derby designs but were mechanically very different to other DMUs, having unusual hydraulic transmission and larger engines. They were built as 4-car sets dedicated to the Bedford-London St Pancras (Bed-Pan) route, which they operated on for all of their working lives. Surprisingly for non standard vehicles, they survived long enough for several sets to be saved for preservation.
Most have lead a healthy preservation life and several can be found in operational condition around the UK. Sadly, none of the original Trailer Second vehicles were preserved, but one set at the Midland Railway Butterley will hopefully soon be the first to be returned to original 4-car formation with the help of a similar Class 115 Trailer Second.
A sign of the increased challenges of keeping suburban sets such as these in good condition was the first scrapping of a Class 127 in preservation, when the Mid Hants Railway disposed of their set in 2012 due to the poor condition of the body and the number of doors which required expensive attention. This left three sets in preservation.
Now Scrapped