Mid Hants Railway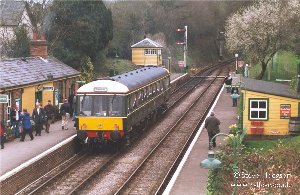 The Mid Hants Railway is a popular 10 mile heritage railway running between Alresford and Alton, with a mainline connection/interchange at the latter. The railway first started operations between Alresford and Ropley in 1977, extending the rest of the way in 1985.
The railway's association with DMUs first started in 2000 when a Class 122 single unit arrived at the line and started to be used on off peak services. A second Class 117 2-car set joined the bubble car in 2002 which was later increased to 3 cars.
A radical change in ownership saw the entire fleet sold on and moved away in 2011, as the railway could sadly not raise the finance to purchase the privately owned vehicles, despite being offered first refusal.
However concern by the membership saw a DMU return to the line the following year, with an out of use 3-car Class 127/115 set from the South Devon Railway. This revival was to prove short-lived however, as the two powercars were scrapped in 2012 as the railway did not have the finance or manpower to undertake the required bodywork on the vehicles. This left just the Class 115 centre car behind which was retained as hauled coaching stock.