Class 117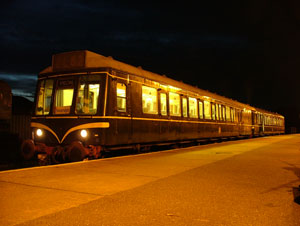 Rather suprisingly these suburban units have survived into preservation in remarkable numbers, being one of the biggest DMU classes in preservation. Built by Pressed Steel for BR, these vehicles were originally three car sets, and examples of all three types are represented. Several sets still operate "as intended" as 3-car sets, unlike many preserved classes which run (arguably unauthentically in some cases) as 2-car sets. Their survival is mainly due to extensive use by Network SouthEast and Scotrail, which kept them in service on the national network longer than most DMUs, in a similar story to the class 101s.
In preservation, few have received major work, with most being launched straight into traffic with little attention required. However this trend is slowly reversing with some vehicles undergoing overhaul as wear and tear takes hold. Most have now lost their late BR colours, returning to green (and in some cases blue or blue/grey).
Although not strictly the preservation of whole Class 117 vehicles, a substantial section of 51366 also survives.
Now Scrapped