Class 101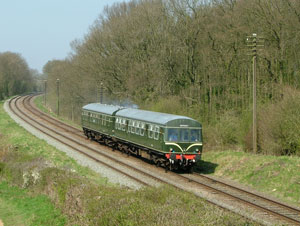 With over 700 examples produced by Metropliton Cammell between 1956 & 1959, the class 101's have been one of the most successful railcar designs both in mainline service and in preservation. They were the last first generation DMUs to survive on the mainline in any great numbers, with a fleet of about 30 two car sets surviving into the 21st century.
Due to their extended survival compared to other classes, they are represented very well in preservation, numerous examples being obtained by railways and individuals. They represent the last batch of first generation vehicles to be made available for preservation. They are easily recognisable by their unique Mett Camm front end, which (after the standard Derby front end designs) probably best represents DMUs in general.
Their good condition has meant a healthy proportion of the class is in operational condition, having been put straight into service after preservation with little work required. However as time goes on more vehicles can no longer operate in "ex-BR" condition and several are now undergoing a range of thorough refreshes, rebuilds & restorations, safeguarding their long term place on our heritage railways.
A 2-car 101 is also part of the National Collection, being claimed in 2005.
Although not the preservation of whole Class 101 vehicles, it is believed that the cabs from 50211, 50269 & 51177 have also survived.
Now Scrapped