South Devon Railway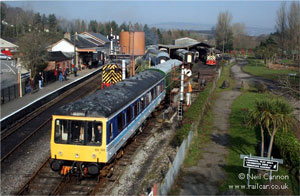 The South Devon Railway is a 7 mile branch line running from Totnes to Buckfastleigh. At Totnes, the main line network remains, and beyond Buckfastleigh, the remaining two miles of the branch (to Ashburton) was sadly lost to the widening of the A38. The line was closed in 1962 after a long and unprofitable life, but by 1965 preservationists had moved in. The line was reopened in 1969, ironically by Dr Beeching, as the Dart Valley Railway. In 1991, the line was taken over by a registered charity, the South Devon Railway Trust and renamed the South Devon Railway.
The railway, although closed to passengers just before DMUs were introduced en-masse, has made use of such vehicles in several ways. Like many lines in the area, several suburban centre cars were acquired to be used as hauled coaching stock, as they looked similar externally to some designs of GWR coaching stock. However this practice has now come to and end, with all these coaches either being returned to DMU sets, sold on, or converted into static coaches.
The railway also operates DMUs in their own right, and has done so for several years. A Class 127 3-car set was resident on the line until 2012, and this was joined by the pioneer Class 122 in 1996, which returned to service in 2008.