Class 120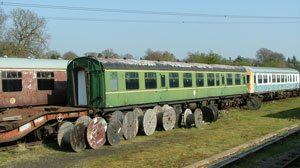 Unfortunately only one example of this class has survived, TSLRB 59276. It is used with two Class 127 power cars on the Great Central Railway.
It is owned by the 'Red Triangle Society', which is formed mainly by ex-St. Pancras / Derby staff who worked on the Class 127s most of their lives. At the time of purchase the Class 127 trailer cars were being kept for re-use elsewhere, so the Class 120 trailer was purchased.
It has had the seating rearranged to include full size tables, and the set of seat next to the buffet has been removed and a bar fitted. The seats opposite the counter have also been removed. Otherwise the vehicle is in it's original un-refurbished condition.
However recently the sole survivor has been sidelined and is currently stored and deteriorating. It is hoped the vehicle has a brighter future.