Class 140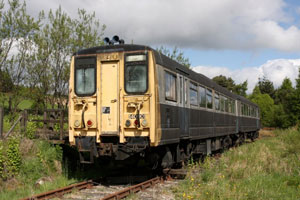 The Class 140 was the prototype 4-wheel "Pacer" and was the forerunner of British Rail's second generation Pacer fleet, which were the first major fleet designed to replace the extensive first generation 1950's DMU fleets.
Constructed at Derby in 1980 using Leyland National bus components adapted for rail use, the vehicle moved forward the ideas developed over the past two years via the experimental second generation Railbuses.
The design was proven to be relatively sucessful prompting the development of the programme and the production sets which became Classes 141, 142, 143 and 144.
Although sucessful as a concept, lessons were learnt and consequently the original Class 140 was non-standard and only ever used for evaluation runs. It was later used in departmental service as the Leeds Neville Hill driver training unit until falling out of use. Plans for use as a Sandite set were not taken forward and the unit was preserved.