Derby Lightweight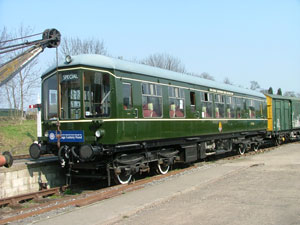 The Derby Lightweight class are the pioneers of the conventional 1950's DMU designs. Built from 1954, these Derby built units were a test bed for the new standardised layout, and whilst successful, during the 10 years of DMU building they became non standard as slightly better construction methods were employed on the later designs.
For that reason few have survived into preservation, as the passenger carrying vehicles were withdrawn long before DMU preservation was established. Luckily, a single example of a 2-car set, plus a single unit, were converted into departmental units, and survived long enough to be preserved.
Due to the heavy conversion work, restoration has not been simple. However the similarities between these units, and their updated sisters the Class 108, has meant that 108 spares have been available to rebuild the Derby Lightweight interiors to their original spec.
So far the single unit and half of the 2-car set have been restored both to excellent standards. The power car of the 2-car set was helped by a grant from the Heritage Lottery Fund. Once the restoration of the trailer vehicle is complete, all three vehicles, or 100% of the preserved fleet, will be fully operational.
The class is very popular due to their different front ends and their pioneering links rooting them more firmly in the steam age than some other (later) designs.