Class 108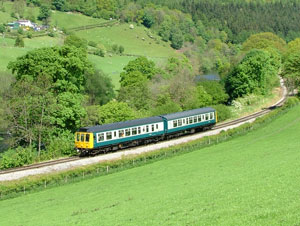 Class 108s have been one of the most successful DMU classes, both in British Railways days and in preservation. They were the "standard" DMU, built by BR itself (at Derby) and were the final design that was piloted by the earlier Derby Lightweight class. Their corrosion free aluminium bodies have made Class 108s ideally suited to the preservation life of long periods stood still stabled in the open air.
Most Class 108s in preservation were withdrawn in the early 1990s and were the first class of DMU to be preserved in very large numbers. This was partially due to BR's decision to offer this class as the standard DMU for heritage buyers. Consequently a large number were saved and they formed the backbone of the heritage scene in the 1990's and the first part of the early 2000's. It was only the withdrawals of the Class 101s and Class 117s in the mid 2000's that rivalled the numbers of 108s on heritage railways.
Many 108s have been running "as withdrawn" as their good condition upon preservation meant most could be launched immediately into traffic. However 15 years on and the wear is now starting to take its toll, with corrosion around the (steel) cabs developing. Luckily however, enough railways and groups are now investing heavily in these vehicles to enable them to continue to operate in preservation.
Now Scrapped