Keith & Dufftown Railway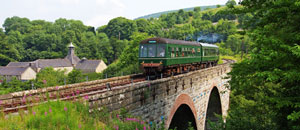 The Keith & Dufftown Railway is an 11 mile diesel-only line in Scotland linking the two towns that form the railway's name. The line relies heavily of DMUs which operate all of the passenger services and have done so since the line's opening. It is the most northerly heritage railway in Scotland.
The railway has been home to a fleet of Class 108 vehicles since the year 2000 and the collection currently stands at five vehicles, of which four are in use in two 2-car sets. Formations can change as maintenance dictates.
A longer term resident is the unique prototype pacer Class 140 set which arrived in 1994. It has however never worked in preservation.
With no immediate indications of changes in traction, it would appear the Class 108 sets will continue to operate all of the railways services for some time into the future.