Class 107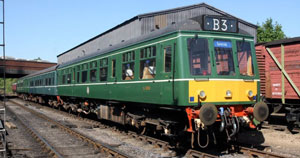 Class 107s are very similar in design to the standard Derby Class 108. One of the differences between them is that the Class 107s have steel bodysides and not aluminium. They were also almost exclusively used in Scotland. All the units were built as 3-car sets.
Considering how much more troublesome the steel (rather than alloy) bodies would prove to be, a good number of Class 107s have been preserved, with none having yet been scrapped after preservation.
However few sets are in passenger service, with many vehicles either out of traffic for overhaul or long term storage projects. Only a single "authentic" 3-car formation survives, the rest being preserved as 2-car sets.