Gwili Railway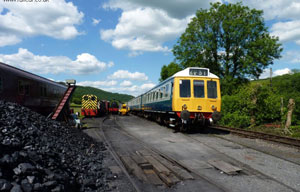 The Gwili Railway was one of the early sites of DMU preservation, with a Class 100 DTCL being used as an observation saloon from 1978, being part of some of the railways first passenger trains. However, they never operated it as a DMU, and the vehicle was moved on during the 1990's.
15 years without any DMU stock followed, before a Class 117 3-car set was moved to the line to operate off-peak services. The railway appears to have embraced DMU operation, and the set sees several days use per year.
The railway itself is a meandering branch line in rural Carmarthenshire, Wales. It runs between its base at Bronwydd Arms 2.5 miles northwards to Danycoed. The railway is currently working on a 1.5 mile southern extension to a terminus near Carmarthen, and there are longer term aims to expand northwards to Llanpumpsaint.