Lakeside & Haverthwaite Railway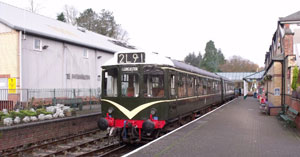 The Lakeside & Haverthwaite Railway runs for three and a half miles between the two stations that form the railway's name. The original branch line's terminus was at Lakeside where connections with Windermere boats can be made and ran to the mainline at Plumpton Junction near Ulverston. Sadly the line was severed just outside Haverthwaite which has restricted the heritage operations to the current length.
Being in a tourist rich area, the railway remains fairly commercially driven, and 99% of services are steam locomotive operated. However, since 1990 the railway has been the home of a single Class 110 set, one of only two to survive.
As of 2011, the sets annual booked running included two weekends performing as "Daisy" for the Day out with Thomas events and three weekends operating a winter-weekend service during November.