Avon Valley Railway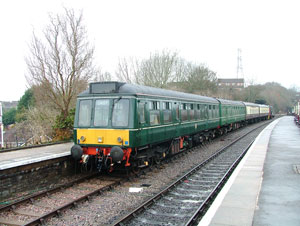 The Avon Valley Railway is relatively new to railcar operation, with its first DMU services launched in 2009. Between the years 1994 & 2011, a Class 108 set had been in off-site storage and was intended for the railway, however the vehicles were never restored to passenger service and were eventually sold on.
Current services are provided by a Class 107 2-car set which is on long term loan to the line. The Class 107 has proved useful and is employed mainly on off peak services.
The line is three miles long and operates between Avon Riverside and Oldland Common, passing through Bitton in the middle, which is also where all the sidings, sheds and restoration activities are located.