Battlefield Line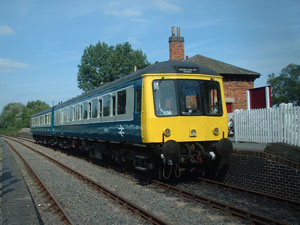 The Battlefield Line has had a long association with DMUs, the railway utilising several rare and often unique vehicles as hauled coaching stock during the early 1990s. These vehicles have now moved on, preserved as vehicles in their own right, but may not have been saved otherwise.
The railway runs for four and a half miles between Shackerstone and Shenton, the first train operating over the current length of line in 1992, although services had been running since the 1970s.
During the late 1990s the large DMU fleet was significantly reduced with surplus vehicles being moved to other lines. Since then, the mainstay of the DMU fleet has been a 116/118 suburban hybrid 2-car set, which is historically important as it contains the only surving Class 118. This set is supported by a Class 122 single unit, which can work both alone and in multiple with the 116/118 set.
The DMUs are currently regularly used for off peak services during the week in July & August.
The Battlefield Line hosted the Annual Railcar Convention in 2006, with the home based 116/118 & 122 sets complimented by visiting W&M Railbus E79960.