Class 116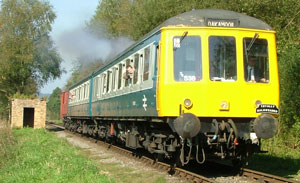 The Class 116 was the first of British Railways' suburban DMU fleet. Designed and built at Derby, the Class 116 design was outsourced to private builders in the form of the Class 117's and 118's, and the body shell was even more widespread, Classes 115, 116, 117, 118, 121, 122, 125 & 127 all having a very similar external appearance. The units were originally three car sets, formed DMBS-TC-DMS.
Several sets were preserved in the 1980's and 1990's when most of the first generation DMUs were displaced, with examples of all three of the vehicle types to be found on preserved railways.
Sadly, in 2009, a major arson attack on the Swansea Vale Railway desecrated the preserved Class 116 fleet, more than halving the number of powercars in preservation. Luckily, no vehicle types were made extinct, but the attack has left only a single DMS vehicle in preservation. Although a few more TC and DMBS vehicles survive, the attack now means that there is only the potential to create one authentic 3-car set in the future, although this may be difficult, as all the surviving TC vehicles are in use not as DMUs but as hauled coaching stock.
Now Scrapped