Class 121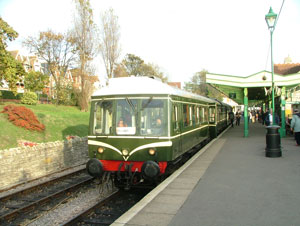 Built by Pressed Steel, these vehicles are very similar to the Class 117 in construction, but are single units with two cabs. Preservation was initially fragmented, due to their versitility in post-passenger roles on the mainline. As useful (self-contained) vehicles, much of the class was retained on the mainline for departmental use, or even preserved and then "bought back" by mainline operators.
Consequently, only two powercars and two trailers were preserved in "as withdrawn" passenger condition, however as the departmental conversions slowly came out of use later, other survivors entered preservation, often at times when no other DMU's were on the market. They have a multitude of interesting conversions, the most common being the removal of doors, modification of the interior layout and the fitting of generators. However there has been a degree of sucess in converting such vehicles back into passenger carrying vehicles.
Along with their Gloucester built counterparts, they are very popular vehicles on heritage railways, and several now have a bright future. Over half of the original build has entered preservation. Two examples (one of them ex-preserved) remain in use on the mainline with Chiltern Railways, and they are now the very last first generation railcars left in commercial service.
Now Scrapped

Preserved & Later Returned Mainline