Bodmin & Wenford Railway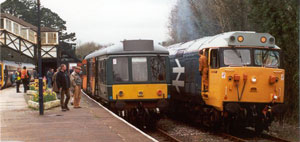 The Bodmin & Wenford Railway is based at Bodmin General and runs six and a half miles along two branches to Bodmin Parkway and Boscarne Junction. The line is steeply graded for much of its length with sections of 1-in-40 several miles long ensuring that rolling stock is worked hard.
The railway has a mainline interchange at Bodmin parkway where connections can be made using the London Paddington-Penzance line.
The line has kept a modest fleet of three Class 108 vehicles since the 1990's, a two car set supported by a third vehicle which is stored and has provided spare parts over the years. These were joined by a Class 121 vehicle from the mainline in 2017.
The DMU's provide off-peak services either during the low season or on quieter (midweek) days during the summer.