Bo'ness & Kinneil Railway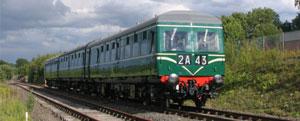 The Bo'ness & Kinneil Railway is arguably Scotland's premier heritage railway. Home of the Scottish Railway Preservation Society (SRPS), the line is home to a rich collection of Scotland's railway heritage, much of the impressive fleet being displayed in extensive exhibition halls.
The railway has a meaningful operating presence as well, with services running during weekends for most of the season and everyday in summer. The railway's headquarters is at Bo'ness, where on a green field site the station has been developed since 1979 and now boasts a fully signalled layout with platforms, buildings and canopy. Extensions to the railway have been made to Kinneil (1987), Birkhill (1989) and finally back to the mainline connection at Manuel (2010).
The line was not until recently an operator of DMUs. However the SRPS have owned the only surviving Class 126 3-car set, along with the only surviving (buffet) centre car from the earlier batch of Edinburgh-Glasgow units, which were externally very similar to the 126. This is most fitting, as both classes spend their entire working lives in these areas, and are Scottish DMUs through and through.
The Class 126, like most vehicles built by BR Swindon, was heavily contaminated with asbestos and the 3-car set required what became the most comprehensive overhaul ever to be undertaken on a DMU in preservation. This took several years, however the set finally returned to traffic in July 2008 and the remarkable standard of restoration ensures that the set remains one of the jewels in the DMU restoration crown.
2011/2012 saw the SRPS build a dedicated multiple unit/carriage shed at Bo'ness to house appropriate vehicles in their collection. The 126 set has a place in this shed and will be one of the few DMUs in the UK to have secure undercover accommodation.