Bressingham Steam & Gardens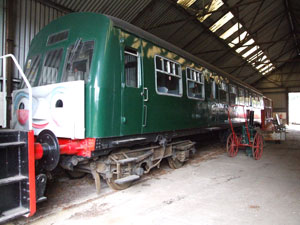 Bressingham Steam & Gardens, as its name suggests, is a steam museum set in beautiful gardens with a garden centre. A family run venture since 1946, the site is used for both commercial horticulture and a tourist attraction, with a large railway museum with modest running lines in four different gauges!
The site is not a DMU operator in the normal sense, with steam being the primary focus. A single Class 108 vehicle was hired as push-pull, vacuum braked hauled coach for passengers to utilise on the small standard gauge demonstration line, which is operated by some of the operational steam locomotives in the collection. This method replaced the previous operation which utilised freight stock for passenger accommodation.
After a sucessful period, the 108 was returned and replaced with a similar Class 101 driving trailer, purchased by the line itself. However itwas not used that frequently and was sold on in 2015.
There are currently no vehicles located at Bressingham Steam & Gardens