Chinnor & Princes Risborough Railway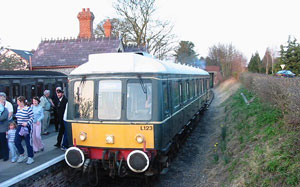 The Chinnor & Princes Risborough Railway has been operating services on a section of the 8 mile Princes Risborough-Watlington branch. The Princes Risborough-Chinnor section had survived in use as a freight only link to a cement works. Starting out at Chinnor station in 1990, services have been running since 1994, with two extensions in 1995 and 1996 bringing the line to its current terminus at Thame Bridge Junction.
At present the railway only has Chinnor as an open station and trains run to Tame Bridge Junction and return. However, as the railway's name indicates, there are long term aspirations to extend into Princes Risborough proper.
The line has hosted first a Class 122 which was replaced in 1997 by a Class 121. The line's modest size makes it ideal for single unit use, and DMUs are often employed on the first train of the day, which is booked as diesel operated.
In 2013 a second Class 121 was aquired with the intention of supporting and strengthening the exisiting unit and two years later a Class 117 was also bought as a source of spares.