Keighley & Worth Valley Railway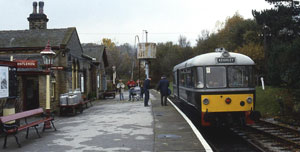 The Keighley & Worth Valley Railway is one of the UK's oldest and most established heritage railways, and DMUs have been a part of the story from the beginning; two Railbuses having been resident on the line from as far back as 1968.
The railway is five miles long and joins the national network at Keighley. The branch then runs up the Worth Valley to Oxenhope, with a total of six stations open. The line runs through dynamic scenery and has gradients of up to 1-in-59 which has resulted in a tendency for resident DMUs to be power-twin units.
The units are used regularly as the line runs successful "morning shopper" services for most of the year. This means a Railbus or DMU set will often be out for two round trips in the morning. At busier times the sets can be found operating a second train (alongside steam) for the full day, so there is plenty of work for them.
The Keighley & Worth Valley Railway hosted the Annual Railcar Convention in 2011, with 50928/51565 & 79964 in operation.
The current fleet consists of two conventional DMU sets and the two Railbuses.