Kent & East Sussex Railway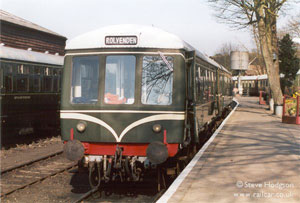 The Kent & East Sussex Railway have a long established heritage railway, operating their first trains in 1974. Extensions in 1977, 1990 & 2000 have brought the line to its current 10.5 mile length.
The railway has a small and efficient fleet of DMU vehicles. A GWR Railcar, appropriate for the branch line ambiance of the line, has been a long term resident on the line and is currently out of service for a complete rebuild.
Day to day operations are handled by steam locomotives but the railway's Class 108 set has an important secondary role providing off peak services. Much investment has gone into the unit both to keep it in good condition and to preserve/reinstate some of the original features.