North Yorkshire Moors Railway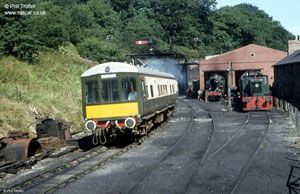 The North Yorkshire Moors Railway is the UK's most popular heritage railway. Running 18 miles between Grosmont & Pickering, the line runs through intermediate stations at Goathland, Newtondale & Levisham, with scenic moorland in between.
Full reopening of the line was in 1975, and DMUs played a major part during the line's earlier years. This was due to their ideal economic role as cheap traction to provide a service, as well as cover when it became too dry on the moors to risk running a steam service. A variety of classes such as 100, 126 & AC Railbus could be found on the line, until they became in need of restoration and surplus to requirements, the railway moving more in the direction of locomotives for its diesel needs. All the DMUs were sold to new homes or scrapped.
Several years without a resident DMU followed before in 2003 the NYMR DMU Group was formed to aquire one of the many Class 101 sets recently withdrawn for use on the line. They were sucessful, and between 2005 & 2013 their set operated regular services on the line, strengthened to three cars following the purchase of one of the three surving class 101 centre cars. In 2014 a further two car set was relocated to the railway to act as a standby whilst the original set was overhauled.
The railway was vital in the preservation of rare classes such as the Class 100s and AC Railbuses, due to them being purchased very early on in preservation, before most DMU groups were formed 15 years later.