Pontypool & Blaenavon Railway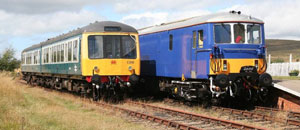 The Pontypool & Blaenavon Railway has been running trains since 1983 and DMUs have been a part of the story since 1994. The railway is built on closed colliery lines typical of the Welsh Valleys. The line therefore includes stunning scenery and lively curves, gradients and weather!
The line's base it at Furnace Sidings, and the railway runs out to Whistle Halt and Blaenavon High Level, with a further branch to Big Pit opened in 2011. Recently the railway has been involved in much development as the local authorities seek to bring the economic benefits of a heritage railway to the area; consequently the early 2010's have seen much development in the form of line extensions and new buildings.
The Gwent DMU group own a Class 108 set joined by the railway's own Class 117 set.