Railcar of the Year 2012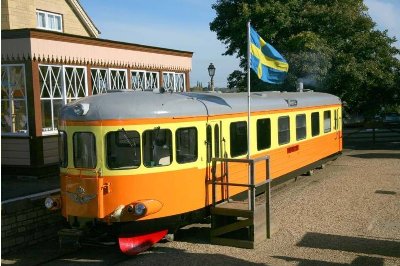 Congratulations go to our first winner of the Railcar of the Year award: Y7 Railcar 1212.
The Nominations
Class 100 Sc56097: Sc56097 was nominated through the sheer courage of its owners to tackle such a dilapidated vehicle properly. Struck with asbestos and given a hard early preservation life, all of the Class 100's in preservation have fared very badly with only a handful now left in poor condition, making the remaining examples very important to try and conserve. Sc56097 has been no exception and was rescued from the West Somerset in the 1990's and asbestos stripped leaving it an empty, corroded shell. The vehicle was stored for over 10 years but a full rebuild has now begun, with the bodywork of the cab and first class saloon (approx 1/3rd of the vehicle) being completed this year. There is still a long way to go with the restoration, but most agree it is pleasing to see such thorough restoration work, which will see the vehicle good for many years to come, being undertaken on such an unusual vehicle.
Class 122 W55003: W55003 was nominated due to its outstanding contribution to the Gloucestershire Warwickshire Railway during its greatest time of need. The line suffered a series of landslips severing operations into two halves for a period of time. W55003 was provided free of charge to the railway to maintain an operational presence on the cut off northern section of the railway, providing valuable income during difficult times while the repairs were carried out to infrastructure. Maintained to a high standard and indeed, an excellent restoration in the first place, the vehicle performed very reliably and was well presented. The vehicle is also very appropriate to the line, Class 122's operating the final services in BR days before closure. The line is now a much more regular user of railcars following a period without them, and W55003 has been a key part in this renaissance.
Class 122 M55009: This single unit was nominated due to the supreme efforts of a small but dedicated restoration team led by Chris Nesbitt. Never having operated in preservation, for many years M55009 was "stranded" on an isolated piece of track at Dereham, its restoration progressing slowly but surely. Recent changes in ownership have seen restoration, particularly the mechanical side, surge forwards with minimal help. The vehicle ran with a few guests on board over the weekend of 20/21st October 2012. Whilst there is much work to be done to complete the restoration, huge steps forward have been made in 2012 to get the vehicle moving under its own power, and the future is now bright for this most useful of vehicles.
GWR Railcar 22: Arguably the forerunner of 'modern' DMU stock, the GWR railcars were the first vehicles to use the mechanical technology which was to form the backbone of the first generation fleets of the 1950's. It was to be the advent of the Second Generation era in the 1980's before another major change was made to DMU design. 22 was nominated due to its high standard of restoration and originality. Housed undercover, the paintjob is now over 20 years old and still shines! The vehicle is in traffic fairly regularly, usually on busier days such as bank holiday weekends, and has been maintained in operational condition, unlike the other two preserved GWR railcars which have either been on static display or under restoration for several decades now. The working group are to be congratulated on maintaining the vehicle in such fantastic condition for so long for visitors to enjoy.
Y7 Railcar 1212: 1212 was certainly the restoration marvel of 2012. Imported from Sweden (and unique outside its country of origin), restoration from derelict condition has been remarkably rapid. Not having run in 20 years, the vehicle started out preservation life at the Nene Valley in the 1980's when it did operate services. However many years at static sites were followed by a return to the Nene Valley in November 2011. Restoration seriously got underway in March 2012 and by October the vehicle was launched into passenger service in its striking orange livery. The vehicle has been completely overhauled inside and out as well as mechanically with the bodywork on both ends being replaced. In the last week before the launch it is estimated between 400-500 man hours were spent on the vehicle including many hours of midnight and pre-dawn morning oil being burnt! It is now fully in service again and is a credit to the team's huge achievement in turning a vehicle around in less than 12 months.
Voting Pattern
Nearly 550 votes were cast from enthusiasts and the public. When the voting started, Mid Norfolk Class 122 M55009 gained an early lead during the first day, securing 33 votes within 24 hours. However this was to be short-lived as Y7 Railcar 1212 and Gloucestershire Warwickshire Class 122 W55003 were tying for first place by day two, and indeed it would prove to be a two horse race for the rest of the competition. By day three, 1212 had gained the lead, and maintained this position for a further five days until W55003 surged ahead after an impressive 47 votes were cast for it on 13th December. W55003 then remained in first place for quite some time until Boxing Day when 1212 regained the top position. Despite further support for W55003 which resulted in the vehicle and 1212 being neck-and-neck again on the 28th December, 1212 just pushed ahead on the 29th and went on to take the prize, after securing a flurry of interest from 85 Swedish voters on New Years Eve! It was very interesting to watch the votes evolve over time, and the awards will be repeated next year, when it will hopefully be as popular as this year. Many thanks to all those who took the time to nominate and vote.
| | | |
| --- | --- | --- |
| Place | Vehicle | Number of Votes |
| 1st | Y7 Railcar 1212 | 244 |
| 2nd | Class 122 W55003 | 164 |
| 3rd | Class 122 M55009 | 54 |
| 4th | Class 100 Sc56097 | 42 |
| 5th | GWR Railcar 22 | 37 |