Colne Valley Railway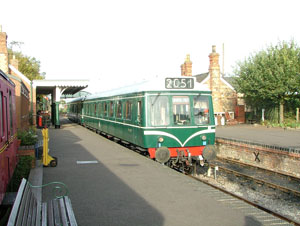 The Colne Valley Railway is a mile long and centres around the rebuilt Castle Headingham station, with a short running line either side.
Its length lends itself well to DMU operation and a variety of types have been housed on the line over the years. The railway is home to Suburban Preservation, a group who are unusual in preserving suburban DMUs in their own right rather than just a cheap traction solution.
However due to changing circumstances the suburban fleet was reduced from several sets down to a single "bubble car" and matching trailer (one of only two in existence). A Railbus and second generation unit, under separate ownership, are also located on the line.
Services are currently shared between the first and second generation units which see use on many diesel days throughout the year as well as several special events.
The Colne Valley Railway hosted the Annual Railcar Convention in 2008 (jointly with the East Anglian Railway Museum), with both 121 vehicles and the 141 set in operation.