East Anglian Railway Museum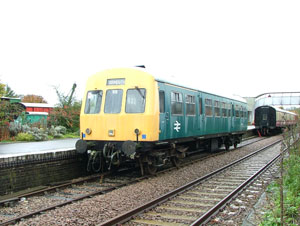 The East Anglian Railway Museum is located at Chappel & Wakes Colne station on the Marks Tey-Sudbury line. The railway set up in the goods yard expecting the declining adjacent branch line to close, which it never did, remaining part of the national network to this day.
Consequently the running line is rather short resulting in an interesting method of operation where the driver never changes end, remaining in the power car in both directions of travel.
Despite the size of the site, it has previously been home to a surprisingly large collection of Class 101 and Class 108 vehicles (including the pioneer vehicle). At one point, there were several operational Class 108 sets, with some out on loan to other railways. However through a combination of vehicle sales and long term loan agreements, no Class 108s remain on site, with the single Class 101 set regarded as adequate to maintain services.
The remaining 101 set has been the subject of a thorough restoration, and is currently the only Class 101 to be restored to 1970s condition, most railways either retaining the latter 1980s/1990s condition or more commonly reverting to a 1950s/1960s appearance.
The East Anglian Railway Museum hosted the Annual Railcar Convention in 2008 (jointly with the Colne Valley Railway), with a 101/108 hybrid set in operation.
During 2012 the Class 101 unit was joined by a Railbus, which is very suited to the line's short run and geographical location.