Helston Railway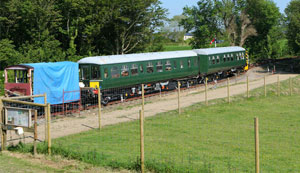 The Helston Railway is a new generation heritage railway and have been working on their base at Trevarno, Cornwall, since April 2005. They have cleared a mile of trackbed and are currently laying track, although they do not currently operate passenger services.
The Helston Railway Diesel Group managed to save the only surviving Class 103 set and intend to use them as both hauled coaching stock and under their own power as the Helston railway develops.
In 2012 the Class 103 was joined by a Class 117 TCL vehicle.
The railway initially plans to operate tourist steam train services within the Trevarno estate, but has long term ambitions to operate between Nancegollan and Helston Water-ma-Trout.