Barry Island Railway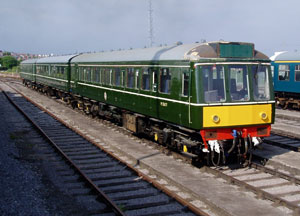 The Barry Island Railway, now known as the Barry Tourist Railway is a modest site consisting of an interesting network of several lines and branches that total one and a half miles. There are four stations, and much of the infrastructure was built up by the Vale of Glamorgan Railway who leased the site from the council and also received funding from them. However their lease was terminated in 2008 and much of the original rolling stock was moved and sold on in the resulting major reorganisation which ended in a new operator.
A DMU fleet had progressively grown during the 2000's, and at its peak, three sets of classes 108, 115 & 117 were operational on the line but all were later moved on to other railways.
More recently, services have been operated by a heavily modified Class 101 set, and another Class 101 vehicle have since been added to the collection.