Private Site: MOD Long Marston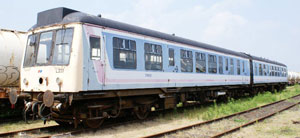 The Ministry of Defence (MOD) has many rail sites around the UK. One of these it located at Long Marston, and amongst other roles, these sites are used for stock storage by the modern day leasing companies.
The rail site at Long Marston has proved more publically accessible than sister site Shoeburyness, as the area is split into several commercial sites, some of which have been opened up for open weekends. During these events it has been possible to view and even ride on some of the DMUs located on site.
The Ministry of Defence own their own Class 117 set which is used for training purposes. Although the set has been hired out elsewhere, it is usually kept at the MOD's Long Marston site. A Class 108 set, destined for the Avon Valley Railway, was also in storage on site for many years before moving elswhere to be returned to operational condition.