Nene Valley Railway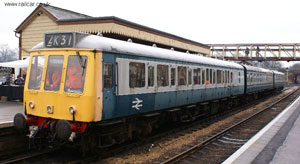 The Nene Valley Railway is a 7 mile heritage railway near Peterborough.
For many years the railway has had an excellent collection of oversees (mainly European) rolling stock which operates amongst some UK stock.
This has been reflected by a Swedish Railcar being resident in the 1980's and returning in 2011, joined by a second six years later.
"Conventional" DMU's have also been extensively used by the railway. The line was for many years the home of a Blue & Grey 3-car Class 117 set. In 2009 the set was replaced by a Class 107, which was deemed easier to maintain having fewer doors, but the new set never operated in service and was relocated soon after.
Currently the Swedish single units are the only railcars based on the railway.