Class 114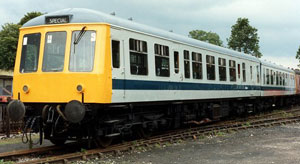 The Class 114 was the first of the "main production" first generation DMUs, being built by British Railways at Derby in 1956. They were iconic, setting the scene for the "standard" DMU. For example: the blue square multiple unit working, the front end, and the design of the interior, was to remain common to most types of DMU subsequently produced.
Fifty two car sets were produced, two of which survive with an additional trailer car. One of the 2-car sets however has been heavily modified for departmental use and the owning group currently have no plans to convert it back, which would be a huge task.
The future of the Class 114's are considered secure, with the single complete two car set having recently received a thorough restoration back to original condition. The majority of the fleet are preserved at the Midland Railway Butterley, which is most fitting being a stone's throw from their original birthplace: Derby works.