Strathspey Railway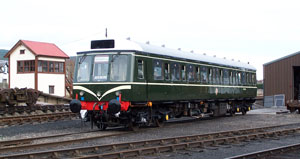 The Strathspey Railway aim to preserve "Highland Railway Heritage" in Scotland. After much renovation and restoration, the railway have been operating trains since 1978. They have extended the line twice, once into Aviemore mainkline station in 1998 (previously they had ran to a "Speyside station", only accessing the mainline connection when the privatised "Railtrack PLC" consented to lease them the station buildings), and again to Broomhill in 2002. The railway have aspirations to extend further to Grantown-on-Spey in the future.

Although mainly a steam railway, the railway has had use for one DMU set over the years. A Class 107 set operated for many years, supplimented by a Class 114 trailer car, but more recently, a Class 117 2-car set has been used.
Currently the DMU sees use in a few winter months with the bulk of running in February.