Churnet Valley Railway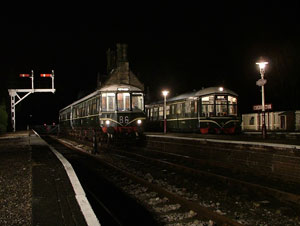 The Churnet Valley Railway runs five and a half miles from Cheddleton to Kingsley & Froghall, passing through Consall along the way. The railway has been around since the late 1970's but have only been operating trains since 1996, with the last extension opening in 2001. The railway hopes to expand operations in the future in partnership with another (commercial) railway company, and an additional 5 miles of track is currently available tothe north as part of this partnership, which is utilised during selected special events.
The line accommodated the first two Class 104sto enter preservation in 1992, with three more vehicles joining in 1996 and a sixth in 2000. In 2004 the first two car set was launched into traffic and regular DMU services commenced on he railway, seeing service roughly 30 times a year as a second train during busier days to compliment the steam hauled service.
Other classes have also been on the line, with a heavily modified Class 101 set arriving in 2008, although it was scrpped in 2012. In 2010 a loan agreement was reached resulting in the sole surviving Class 110 centre car joining the operational 104 set to make a hybrid 3-car formation.
The Churnet Valley Railway hosted the Annual Railcar Convention in 2007, with the home based 104 set complimented by visiting Derby Lightweight M79900. Class 116 & 118 vehicles have also visited for gala events.
In 2014, the resident DMU group decided to relocate many of its vehicles to the East Lancashire Railway including the operational set. This process took two years to undertake, and the railway now has no DMU vehicles on site.
There are currently no vehicles located at the Churnet Valley Railway