Class 104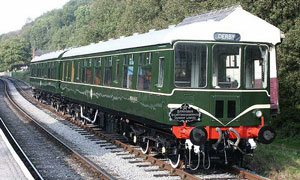 Built by the Birmingham Railway Carriage & Wagon Co in 1957/1958, all thirteen Class 104 vehicles preserved are owned by the same two private owners, who saved 12 vehicles in a bulk bid from British Rail who had a puzzling reluctance to sell a single 3-car set.
A thirteenth vehicle joined following an extended period in departmental service. In preservation, the Llangollen Railway successfully returned a power twin set to service in 1993, with a second set restored by the Churnet Valley Railway in 2004. This set moved to the East Lancashire Railway in 2014. A third set operated at the Telford Steam Railway between 1999 & 2004 but has only been used as hauled coaching stock since.
Two vehicles are currently under restoration. DMBS 50455 at the East Lancashire Railway and DTCL 56182 at the North Norfolk.