North Norfolk Railway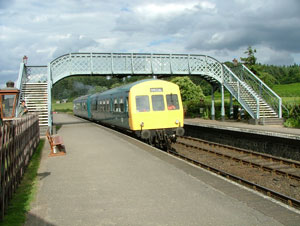 The North Norfolk Railway is one of the oldest operators of preserved railcars, having housed two Waggon und Maschinenbau Railbuses from very early on in their history. Both ran on the line over 30 years, usually with only one in traffic at any one time, until 2012 when one was sold on and the other loaned on a five year deal.
The highly scenic line, which includes breathtaking views of the North Sea, runs five miles between Sheringham and Holt, the former having an end-on connection with the national railway network. Weybourne is the intermediate station roughly halfway between the two terminus stations and all three are fully signalled enabling flexible and comprehensive operations during gala events.
The railway also has a history of using a first generation set for many of their off peak services. Formerly this was a Class 117 set but this was changed during the mid 2000's for a more historically suitable Class 101 set, which represented the Met Camm lightweight units which ran the line during the 1960's. This set was joined by a second Class 101 on loan from the NRM in 2012 and the NNR is currently the only place where two Class 101 power/trailer sets can be seen together.
In 2013 the railway was struggling to provide services following mechanical trouble with the Class 101 sets, and hired in a Class 122 single unit to help with vehicle availability, although the bubble car was soon returned.
In 2015 a Class 104 joined the fleet, as a longer term restoration project.
The railway makes excellent use of its railcar assets, with regular diesel running all year round, a lot of which is given over to the two 101 sets. Running ranges from all day turns (during the winter), through two train DMU/Steam days (mid season), to a two round trip evening service in the peak summer months.
The two Class 101 vehicles owned by the railway company itself have had long term investment/overhauls to ensure their future.