Paignton & Dartmouth Railway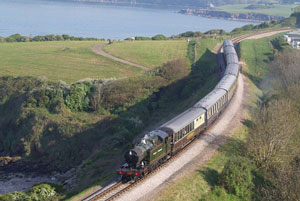 The Paignton & Dartmouth Steam Railway runs 6.5 miles along the coast from the mainline at Paignton to Kingswear, on the estuary to the river Dart. The railway runs through stunning scenery and is one of the most popular heritage railways.
The railway is unique in having a commercial (rather than heritage) focussed outlook, and is the only heritage railway to pay a dividend to its shareholders.
The railway in 99% steam operated so has never used DMUs in conventional passenger services. However the similarity between suburban centre cars and Great Western Railway coaching stock lead to the line acquiring two Class 116 centre cars in 1984 followed by a further six Class 117 centre cars in the 1990's, to form a GWR style rake of vacuum braked coaching stock.
Today, seven of the centre cars run almost daily during the season as part of the lines coaching stock fleet.