Swanage Railway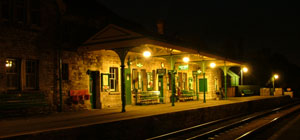 The Swanage Railway is a highly successful 5 mile railway in Dorset running from the seaside at Swanage to a Park & Ride facility inland at Norden. The railway have aspirations to reopen the rest of their branch line to the nation network connection at Wareham, which is already possible for occasional rail tours.
The line sees plenty of DMU running all year round. DMUs are used on both off peak services when steam isn't viable and during busier times as a second train. During the summer they also operate Friday/Saturday night evening shuttles which run until 11pm.
Although briefly the home of a Class 100 set, the line has mainly used Class 108 vehicles, initially acquiring two sets in the 1990's (later reduced to one). More recently, the 108 set has been supported by several Class 117 and Class 121 vehicles. The level of traffic ensures that there is plenty of work for operating sets, and they can often be seen both in multiple and re-formed as maintenance dictates.
In 2012, a Class 101 arrived as a source of spares for the fleet, and was eventually scrapped three years later.