Diesel Railbuses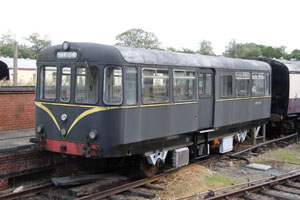 A variety of diesel Railbuses have been preserved on the UK's heritage railways. The most numerous group are the remains of British Railways' ill fated attempts to reduce costs on rural branch lines during the late 1950's through experiments using 1950's German practice. Although five types were trialled only two are represented in preservation.
A Swedish railcar from a similar era has also been included here.
A second wave of Railbuses were built during the 1980's in the form of several demonstrators when British Rail were experimenting with different concepts which eventually transformed into the pacer units. The unsuitability of the vehicles in passenger service allied with their consequential low mileages have made them favourable for preservation.
Finally, a few four wheel vehicles built for use in departmental roles have been included. They never carried passengers on the mainline but have been converted into passenger carrying vehicles during preservation.
First Generation

Second Generation

Departmental Vehicles Converted into Passenger Railbuses in Preservation

Overseas Railcars

Now Scrapped