Great Central Railway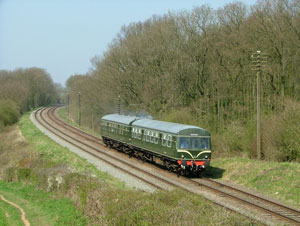 The Great Central Railway is the UK's only "mainline" heritage railway. Unlike many lines which have recreated quiet and previously closed railways, the Great Central is an ex mainline, and this ethos for size and speed has continued into preservation. Probably the most famous aspect of this remarkable renaissance is the five miles of double track, a feature no other railway has yet to rebuild.
For many years DMUs have been a part of the scene at the Great Central. A 127/120 3-car set was operational for many years throughout the 1980s and 1990s, however this later fell out of use and the railway went several years without any operational DMUs.
However in 2004 this changed after an influx of Class 101 vehicles from the mainline into preservation and a second active group emerged operating these vehicles.
During 2012, restoration work to return the Class 127 set to service was undertaken, giving the line two operational sets for the first time.
In 2014, the only surviving Class 111 vehicle made the headlines by entering service in the Class 101 set, the first time such a formation had been seen for 40 years.
Nowadays, the Class 101/111 set sees weekly use operating the first train of the day. Members remain active with more Class 101's being prepared to join the operational fleet.