Great Central Railway (North)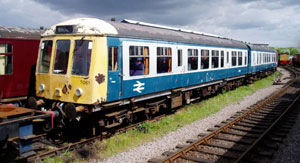 The Great Central Railway (North) runs from the transport centre at Ruddington to just outside Loughborough along the old Great Central Main Line.
The railway has aspirations to bridge the Midland Mainline at Loughborough and link up with the southern "Great Central Railway" creating a single 18 mile heritage attraction.
All of the stock is kept at Ruddington, including the DMU fleet. Since the 1990's a Class 108 set has been based on the railway, joined in the early 2000's by a Class 116 set owned by the Nottingham Railcar Group.
The Class 116 is of particular historical value (following severe arson attacks at other railways) as the DMS vehicle is now unique making it the last "complete" Class 116 set in preservation (albeit its centre car is of Class 117 origin).